Now that we're nearing the end of 2012, I'd like to make a few predictions for the coming year based on some random political observations. I'm breaking this post into three parts so it won't be too long (or put you to sleep).
Prediction #1:  Congressman Jesse Jackson, Jr. will take a plea deal in exchange for a short stint at a Federal prison.
"Just two weeks after voters re-elected him to a ninth full term, Jackson on Wednesday sent his resignation letter to House Speaker John Boehner, citing his ongoing treatment for bipolar disorder and admitting "my share of mistakes" while confirming publically for the first time that he's under a federal probe and cooperating with investigators."

http://articles.nydailynews.com/2012-11-22/news/35305960_1_resignation-letter-congressman-jackson-federal-investigation
Several weeks ago I predicted Congressman Jackson would resign from his Congressional seat (unfortunately, I couldn't get anyone to take the bet) because it seemed that his sudden onslaught of mental illness came about after strong rumors of a potential federal indictment kept re-surfacing.
I believe Congressman Jackson's visits to the Mayo Clinic stint were a desperate (and possibly brilliant) attempt to evade the ravenous alligators (aka the Feds) and give himself more time in the hopes of avoiding a criminal indictment.
After all, the Feds wouldn't be so heartless as to barge into a hospital room and drag a Congressman suffering from a mental disorder off to jail — would they?
Why the Feds (really) targeted him OR why so many black elected officials are or have been under indictment may never be known. However, something foul appears to be happening, according to George Derek Musgrove, author of  Rumor, Repression and Racial Politics: How the Harassment of Black Elected Officials Shaped Post-Civil Rights America:
"In the last three years, well over a dozen black members of Congress have been investigated by the Office of Congressional Ethics and the House Ethics Committee."
In March 2010, Rangel stepped aside as Ways and Means Chair. In November 2010, the Ethics Committee found Rangel guilty of 11 counts of violating House ethics rules,and on December 2, 2010, the full House approved a sanction of censure against Rangel.
Rep. William Jefferson, D-La., was indicted Monday on federal charges of racketeering, money-laundering and soliciting more than $400,000 in bribes in connection with years of trying to broker business deals in Africa.
Congresswoman Maxine Waters was charged by the House's subcommittee on ethics with violations of the House's ethics rules in 2010.
The House ethics committee is currently investigating seven African-American lawmakers — more than 15 percent of the total in the House — and privately, some black members are outraged. 
"Not a single white lawmaker is currently the subject of a full-scale ethics committee probe."
(11/3/09)

http://www.politico.com/news/stories/1109/29055.html
Since blacks make up about 7 percent of the members in Congress (who sadly enough, represent approximately 30 million African Americans!) the numbers of blacks under indictment VS the numbers of whites under indictment is highly suspicious.
I believe black politicians are being targeted for one, or two, or possibly all three (or more) reasons:
 to eliminate as many black "voices" (and eye-witnesses) as possible from the elected bodies of Congress, state, and local governments so black people will have as little representation as possible (in preparation for what?)
to destroy the black collective's faith in elected black representatives (and in other black people) DESPITE THE FACT that the white elected representatives have an even WORSE record regarding black issues.
to reduce black political power, leaving us with a handful of hand-picked, highly-placed, highly-visible black "officials" (politicians) who will be so far removed from the lives and problems of everyday blacks that it amounts to NO BLACK REPRESENTATION at all.
Targeting black elected officials is also very popular on a local level, especially in my hometown — Chicago, Illinois.
 Cook County Commissioner William Beavers talks to reporters, as his attorney Sam Adam Jr. listens, after Beavers' arraignment on federal tax charges, Friday, March 2, 2012, in Chicago.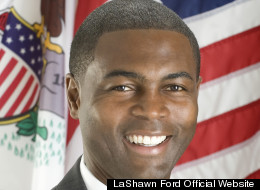 State Rep. LaShawn K. Ford was indicted Thursday on charges of bank fraud.
Chicago Ex-Alderman Arenda Troutman Pleads Guilty to Fraud Charges
Illinois State Rep. Derrick Smith (D-Chicago) leaves the Dirksen Building federal courthouse on March 13, 2012, after he was released on bond, following his arrest for allegedly taking a $7,000 bribe. (Credit: CBS)
Some more local level indictments…
COLUMBUS, Ohio (WDTN) – State Representative, Clayton Luckie, D-Dayton, has been indicted on 49 counts of corruption and theft.
Kilpatrick's legal concerns are seemingly ongoing with added federal charges tacked on to an already long list of offenses.
After more than four years of investigation, and a month after a guilty verdict in the first corruption trial against her, Baltimore Mayor Sheila Dixon agreed to a plea deal with prosecutors Wednesday in which she pledged to resign from office.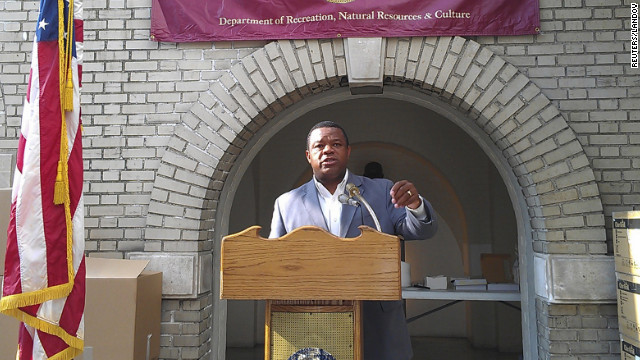 The mayor of New Jersey's capital city was arrested Monday on corruption charges after being accused of accepting bribes during an undercover operation, authorities said.
Officials have told a former New Jersey mayor who pleaded guilty to federal tax evasion and mail fraud charges that he's not entitled to his pension. Former Paterson Mayor Martin Barnes would have received about $1,000 a month, according to PatersonPress.com. The city's first black mayor was released in 2006 after serving a 32-month sentence in federal prison.
I'm NOT defending politicians (since I truly have no use for most of them); I'm challenging the (racist) notion that black politicians have a monopoly on being corrupt WHEN in fact, one only has to look at the bankrupt treasuries and economies of nearly ALL local, state, and the federal governments as well as Corporate America to get a realistic snapshot of just how widespread GOVERNMENT and CORPORATE CORRUPTION is.
A couple of other things to consider:
1. Black politicians learned how to milk the system by watching white politicians (those who have been there the longest, do it the best).
2. Black politicians did NOT invent 'pay to play" OR the terminology.
3. Black politicians are not the only ones (or the worst offenders) who are taking bribes. Illinois State Representative Derrick Smith was accused of taking a $7,000 bribe and has pleaded not guilty BUT his (mostly white) House colleagues voted 100-6 last spring to kick him out, making him the first lawmaker expelled in more than a century.
Expelled for being accused — NOT CONVICTED — of taking a $7,000 bribe?
In a state where MILLIONS of dollars exchange hands in private sweetheart deals to the tune of  BANKRUPTING THE ILLINOIS TREASURY?
4. I strongly suspect that some of these black politicians — who might be corrupt and greedy opportunists (like their white counterparts) — were deliberately targeted so they could be removed from office and charged with a crime after they have (1) either outlived their usefulness, (2) made the mistake of actually taking a "pro-black" stand on an issue, or (3) stepped on the wrong (white) toes
While I am not privy to the inner dealings and thought processes of those who have the power to decide who will be indicted and who will not
I'm certain that Congressman Jackson's indictment was NOT about corruption because the entire white supremacy political system is by nature AND by necessity CORRUPT.
It is not about Congressman Jackson allegedly buying a $40,000 watch as a gift with campaign funds because I suspect that spending (stealing) someone else's money for personal use is standard operating procedure for the vast majority of politicians
Just as I am certain there are probably legions and legions of secretaries, "assistants," mistresses, (secret) baby mommas, call girls (and boys), street prostitutes, and boy scouts who can testify to this.
Certainly, Congressman Jackson, Jr. is no more corrupt than the most seasoned (and predominantly white) politicians who have PERFECTED the art of gaming the system and the taxpayers to their political AND financial benefit.
That being said, the Lesson in all the above might be:
We need a GREATER UNDERSTANDING of how the system of white supremacy functions so we don't make ourselves such EASY TARGETS of the voracious white alligators swimming near every black watering hole.
A non-white person CANNOT GET AWAY WITH THE SAME CROOKED TRICKS THAT THE WHITE BOYS AND GIRLS (IN POWER) GET AWAY WITH EVERY DAY OF THE WEEK.
Don't fall for the CON that black politicians are more corrupt than whites. Black people control little to NOTHING in local, state, and federal governments and therefore should NOT be the focus when it comes to corrupt politics OR politicians.
When something happens over and over to the same people, it is NOT a COINCIDENCE, it is happening BY DESIGN.
PART TWO COMING SOON

Trojan Pam  (Trojan Horse Press)